Australia Day Address
The Address, first delivered in 1997, is a celebration of thought, diversity of opinion and freedom of speech.
Traditionally, distinguished Australians are invited to present their unique reflections on our national identity and share their vision for the future of all Australians.
Each Australia Day Address has been as individual as the person delivering it, presenting inspiring and thought-provoking messages from some of our nation's leading visionaries.
In 2022, the Australia Day Address will be delivered by Dr Daniel Nour, Founder and Director of Street Side Medics on Wednesday 19 January 2022, at 12:30pm.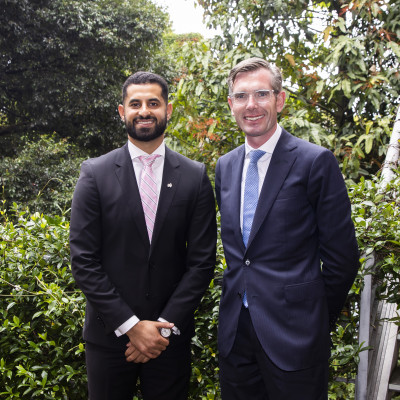 About Dr Daniel Nour:
Identifying a gap in the healthcare of vulnerable people in New South Wales, Dr Daniel Nour founded Street Side Medics in August 2020. It's a not-for-profit, GP-led mobile medical service for people experiencing homelessness.
Director and Founder of Street Side Medics has changed the lives of thousands of patients. Its clinics aim to alleviate barriers limiting access to healthcare by treating many communicable and non-communicable illnesses, and detecting conditions that would otherwise go unnoticed.
With his leadership and social consciousness, Daniel is committed to making a real difference to the lives of many Australians. He's also making significant improvements to society.
Transcript
[Performance of Djapana (Sunset Dreaming).]
[Applause.]
MC: Good afternoon, everyone. Welcome to the 2022 Australia Day Address. I'm Anna Choy and it's my pleasure to be your MC at this prestigious and important event in the Australia Day program. First, I would like to thank KARI for that terrific performance of Djapana. Please join me in thanking KARI again.
[Applause.]
MC: I would like to extend a warm welcome to our honoured guests joining us here today: the Honourable Dominic Perrottet, Premier of New South Wales, and Mr Andrew Parker, Chair of the Australia Day Council of New South Wales and council members, and also delighted that joining us in our live audience today is the 2021 Australia Day Address speaker, Commissioner Shane Fitzsimmons.
The Australia Day Council of New South Wales recognises the important and unique position of Aboriginal people in the Australian culture and history, and so it is with pleasure that I now invite Yvonne Weldon, Deputy Chair of the Metropolitan Local Aboriginal Land Council, to welcome us to country.
YVONNE WELDON: Hello, Premier, ladies, gentlemen, sisters, brothers, gender-fluid, gender-neutral and everyone. Providing a welcome to country is both an honour and a privilege. I stand before you on the land of the Eora. I've grown physically on this land, but in my blood and always in spirit I am Wiradjuri. I come from Cowra, here in New South Wales. My ancestral blood lines connect along the lands and the waters of the Kalare, which later became the Lachlan and the Murrumbidgee Rivers. I am the elected Deputy Chairperson of the Metropolitan Local Aboriginal Land Council, who are the cultural authority under the Land Rights Act for the land we are on.
I would like to pay my respects to all elders past and present to all First Nations and to you and the many nations that are represented from your journeys here today. Where we are gathered is on the land of the First Nations. Our boundaries are determined by our natural landscapes. The boundaries of the Eora are the Hawkesbury River in the north the Nepean in the west and the Georges River in the south.
On behalf of the Metropolitan Local Aboriginal Land Council, the elders, and the members, I welcome everyone to the land of the Cammeraygal. I acknowledge the Cammeraygal people whose spirits and ancestors will always remain with this land and Mother Earth. My people have been a part of this land for more than 65,000 years. We are the oldest living culture of the world and we will continue to maintain the land, our culture and our traditions, to acknowledge my people's survival and also the challenges we are all faced with.
Can we all please pause for a moment to reflect and to remember the many that have gone before us, the ones walking beside us and others soon to be following in our footsteps.
Sharing what we have and caring for each other is my people's way of life. Our family and our friends are our community. It is a practice we have continued that has flowed on from one generation to the next. The greatest gift you can ever give someone is your time and we all give so much. All of us need to continue to make a difference to give and to also to receive. Working together and not in isolation, we create a true healing. Let's look back on a legacy we are proud of. All of us can bring about positive changes now and into the future to make that future possible let us all draw upon my people's spirits as we continue on our journey. May my people's spirits walk with you and guide for you as we stride forward for us all.
Again, on behalf of the Metropolitan Local Aboriginal Land Council, [speaks Aboriginal language.] Welcome. This always was and always will be Aboriginal land.
Thank you, and have a wonderful day.
[Applause.]
MC: Thank you, Yvonne. The annual Australia Day Address is an important event which aims to inspire a national dialogue in the lead-up to Australia Day. Each year since 1997, a distinguished and inspiring member of our community has been invited to share their unique perspectives on our nation's identity and matters they consider to be of national importance. Over the years, we have heard from many eminent Australians including former Australians of the Year Tim Flannery, Professor Michelle Simmons, Ita Buttrose, internationally renowned mathematics teacher Eddie Woo, and in 2021 Rural Fire Service Commissioner Shane Fitzsimmons.
The 26th annual Australia Day Address will be delivered by Dr Daniel Nour.
Dr Nour founded Street Side Medics in August 2020 after identifying a gap in the health care of vulnerable people. Operating four clinics in New South Wales Street Side Medics is a not-for-profit GP-lead service for people experiencing homelessness. Its clinics aim to eliminate barriers limiting access to health care and have so far changed the lives of thousands of patients. Dr Nour is also a full-time doctor in one of Sydney's largest public hospitals. As you would expect, the COVID pandemic has presented Dr Nour with many challenges, some he thought he would never encounter when he began his journey into medicine. Throughout all of this he has portrayed empathy, maturity and a zeal well beyond his 26 years. He is like all our doctors and nurses the reason the New South Wales healthcare system is one of the best in the world.
With his leadership and social consciousness, Dr Nour is committed to making a real difference to society. He is a remarkable young man and I think it's safe to say that we're all looking forward to his address with great anticipation. But, first, let's get to know a bit more about Dr Nour and his extraordinary organisation, Street Side Medics.
[Video plays.]
MC: Esteemed guests, I now invite the honourable Dominic Perrottet, Premier of New South Wales, to officially introduce and welcome our address speaker for 2022.
PREMIER: Thank you, Anna, and can I thank Yvonne for that wonderful and inspirational welcome to country. I acknowledge also my ministerial colleague Eleni Petinos, who is here today, Mr Andrew Parker, the Chairman of the New South Wales Australia Day Council.
Well, can I begin by saying it's a real honour and privilege to introduce our speaker for the 2022 Australia Day Address, Dr Daniel Nour. We live in challenging times. It hardly needs to be said, but it's true nonetheless. The challenges that we are facing today as a country are not going to go away quickly or easily. This is a test of our strength, but also of our endurance. For everyone across our state, our nation, and around the world, it can be exhausting. In times like these, it can be tempting to throw up our hands and say it's all too hard, to close our eyes and hope it all goes away. Over the past two years, we've seen glimpses of that in these kinds of responses.
But overwhelmingly here in New South Wales, and around our great country, we have seen a different kind of response. We've seen determination and grit. We've seen workers and businesses on the brink of struggling on, but importantly bouncing back as we've opened up. And we've seen the most extraordinary public health effort and response in generations. The fight isn't over, but the efforts that we have made together ensure one thing, and that is that we will prevail. Everything that we've achieved as a state and as a nation, we've done together. To overcome a pandemic everyone must pitch in.
Governments have an important job to do and our Government will turn up every day to overcome today's challenges and ensure we move forward, but our success as a state, our success as a nation, rests on the efforts of all of us, working together towards a common goal. In that effort, there are some members of the community whose contribution stands out and whose efforts go above and beyond the call of duty. And that brings me to today's speaker.
Dr Daniel Nour is a 26-year-old junior medical at Sydney's Royal North Shore Hospital. Born and raised in Sydney, he dreamed of becoming a doctor after his older brother spent time in and out of hospital as a child. He chose to study medicine at James Cook University and during university breaks he volunteered for a food service as part of his local church.
During his time at JCU Dr Nour's skills as a researcher got him a place in London at the Imperial College for his final year, and it was there in the UK, after encountering a homeless man in medical need, that the idea of Street Side Medics were born. Dr Nour saw that many disadvantaged people including many people who were sleeping rough were not getting the healthcare and the social support that they needed. His solution was simple yet brilliant. If people were unable to see a doctor, he would take the doctor to the people. This is never more important than now, during the pandemic.
So, in February 2020, Dr Nour set up the non-profit called Street Side Medics, with a team of 250 doctors and nurses, Dr Nour's street side medics are changing lives. They are helping vulnerable people overcome important health challenges and importantly getting their lives back on track. That initiative earnt him the 2022 New South Wales Young Australian of the Year Award and, having met him previously, I can tell you that he's an incredible inspiration, and his spirit of service is exactly the values that have made our country great and exactly the values that we celebrate each and every year on Australia Day.
Today, Dr Daniel Nour will become the youngest person to deliver the Australia Day national address. He has already achieved so much in such a short space of time. But I have no doubt that his best is yet to come. As we look ahead to the COVID challenges on the near horizon, and to life beyond the pandemic, I've no doubt that he will continue to become part of the Australian success story. So, ladies and gentlemen without further ado, please join me in welcoming Dr Daniel Nour in delivering the 2022 Australia Day Address.
DR DANIEL NOUR: Thank you, Premier.
I, too, wish to pay my respects to the Cammeraygal people of the Eora nation on the lands of which we meet and pay my respects to elders, past, present and emerging. I would like to acknowledge the Premier, the honourable Hon Dominic Perrottet, and, of course, Mr Andrew Parker, the Chair of the Australia Day Council of New South Wales.
When I received a call from the Premier's office indicating that he had chosen me to deliver the 2022 National Address, my initial reaction was to look back down at my phone, make sure it was in fact the Premier's office on the line, and that it wasn't just a prank call! They then told me that it was a 25-minute speech and I realised I'd been stitched up here. Only kidding!
This truly is one of the biggest honours of my life and I am very grateful for the opportunity. I am very grateful for many reasons. You see, my story exemplifies the Australian dream. It is a story that would very much resonate with the millions of migrants who call Australia home, and it is one more example of why Australia truly is the best country in the world. It validates the dreams which my parents shared when they decided to migrate to Australia from Egypt, and the promise that we often tell ourselves, which is: if we work hard enough and if we truly believe in something, we can, in fact, achieve it. Finally, it reflects the breadth of opportunity that we all share living here in Australia.
I would like to tell you my story, but before I do so, I would like to ask you all one question and I would like you to think about the answer to this question throughout this speech, and that is: Where is the wealthiest place in the world? I'll repeat that again: Where is the wealthiest place in the world?
My story starts in 1979, when my father, John, left his parents and four brothers and migrated to Sydney. He cites his primary reason being opportunity for himself but predominantly for his future children. My dad quickly recognised that education was a necessity and quickly enrolled himself in a full-time degree in psychology whilst working two other jobs. After finding love with my beautiful mother, Mona, and having served many years working for the Department of Children's Services, my father decided to start his own office furniture business.
By this stage, they had one son, my brother, Christopher, but they prayed for an upgrade and version 2.0 arrived – yours truly. Whilst clearly more handsome, funnier, arguably more intelligent, I also turned out to be the headache of the family. I was often in trouble. I was described as the class clown and a nuisance, and many questioned my future. Despite all those concerns being nothing more than a series of misdemeanours, I was often in trouble at school. Detentions were just a part of the day to day, and parent meetings were so regular that my parents knew most of the school staff on a first-name basis.
Now, while my parents claim they believed I was bright, my potential was certainly not recognised, especially outside my immediate family. I often did not excel academically, nor did I apply myself as well as I could. Fortunately, however, changing schools was a great move and, in a new environment, I really started to excel. I knew I had it in me to prove those who doubted me wrong and therefore I decided to take it a bit more seriously. I excelled in mathematics and decided to undertake four units of mathematics in year 11. I was proud to finish my high school certificate with an All-Rounder's Award, which recognised that I received a band six – the highest possible band – in all of my subjects.
I must admit to you, however, as a child I was a dreamer. Whilst my teachers likely thought very little of me, and I would go as far as to say that my parents likely questioned my future, for some reason, deep down within me, I had a sense that I could achieve whatever I wanted and that I was simply misunderstood. I think it's fair to say that as a child you dream. Some of us want to be astronauts, soccer players, politicians, doctors and so on. As children, our naivety means that we don't really appreciate, nor recognise, the challenges, the barriers and the inevitable bureaucracy that can sometimes obliterate our hopes and aspirations.
Personally, I didn't always want to be a doctor. My older brother, Chris, who is with us here today, suffered from a somewhat rare gastroenterological problem, which resulted in him being hospitalised quite frequently while he was young. It took a while for him to be diagnosed with a relatively benign inflammatory condition of the small bowels and oesophagus. But what years of spending weeks in a hospital taught me was: firstly, they always have lemonade ice blocks in the freezer – I still take advantage of that – secondly, that the kids' ward is a dream holiday for the patient's sibling; and, finally, that doctors are modern-day superheroes.
You see, my brother, Chris, was often in physical pain, and my parents were often anxious and scared, and I was in the corner overdosing on lemonade ice blocks. But what the doctors did was not only care for my brother medically, but they also attended to my family's needs. They sat with my parents, and they explained to them what was happening, why it was happening, and what it meant for Chris and his future. They referred us to other outstanding allied health professionals who taught my parents what food to cook for him, what exercises he should do and, in doing so, they provided us with truly holistic care.
Later on, in my medical studies, I recognised that witnessing my brothers care as a child was simply a case of observational learning. I could see the positive impact that the healthcare system had on my brother and on my immediate family – the care, empathy and commitment they showed to my brother – and I knew I wanted to have a similar impact on society. I therefore decided medicine was my career choice.
Due to previous work experience, I had developed a keen interest in rural, remote and Aboriginal and Torres Strait Islander healthcare and I, therefore, decided to undertake my studies at James Cook University in sunny Townsville. In my fourth year of study, I developed a keen interest in cardiology and was lucky enough to be mentored by Professor Ravinay Bhindi, a prominent cardiologist and researcher from Royal North Shore Hospital. Throughout my six years of study, I undertook placements in some of Australia's most regional areas, including Babinda, Ingham and Mossman in Far North Queensland. But it was in fact my final year elective, which I undertook in the cardiology department at Imperial College in London, which changed everything.
It was June of 2020, roughly 8pm. I was getting off the underground at Waterloo Station near where my university accommodation was. For those unaware, Waterloo Station in London is likely the equivalent of Town Hall or Central Station here. As I walked out, I noticed a crowd that was surrounding someone. Initially thinking it was a busker or musician, I took my AirPods out and I approached, but I quickly realised this man was actually having a seizure on the footpath. My training kicked in and I tried to create a soft and safe space so as to prevent the gentleman from harming himself. Once the seizure ceased, I performed my ABCs and did all that I could to make sure that he was stable until the paramedics arrived. When they arrived, I gave a handover, and the patient was taken away.
By this stage, it was quite evident to me that this patient was, in fact, homeless. As I got up, I realised that three or four of those surrounding us were his friends and they were also homeless, many of whom were carrying their life belongings in a trolley behind them. We started a conversation. They thanked me, and we began to chat. The one evident leader in this group was a Caucasian lady in her mid-40s. She told me that this person who was just having the seizure was named Paddy, and he had been having seizures for months, but it often occurred a few streets away, where not too many people noticed. This lady made a point of emphasising to me that Paddy did not do drugs, he did not drink alcohol, but he still was experiencing seizures. I therefore curiously asked why he had not gone to the emergency department or why he had not been taken to see a doctor, to which I received a chuckle.
Exploring this further, I learnt that she and her friends shared the view that the healthcare system cared less for them than any another person in society. They often felt judged based on their prior histories which, at times, included substance abuse. As a result, they felt better off ignoring their health concerns or self-managing them.
As someone who grew up admiring the healthcare system, who had just spent the last six years of their life dedicated to learning as much as possible so that I could contribute to the healthcare system, this really was a slap in my face. This lady would rather live and suffer on the streets and self-manage her medical issues simply because it was either too difficult, hard to access or, worse, because she didn't trust that we as doctors cared enough or would take her seriously.
I had two months to go in London and I did just that – I finished my placement, travelled Europe while I could, and I enjoyed myself. But seldom did a moment pass when I didn't think about that very interaction. Now, a few weeks after returning to Sydney, my friends and I all went out to dinner – and there was six of us. We had dinner, drinks, dessert and, this doesn't happen very often, but after this dinner, I was feeling generous, so I shouted the dinner. That felt pretty good.
The very next day, I was driving into Royal North Shore Hospital to do some data collection. I had just come off at an intersection on the Eastern Distributor, I was approached by someone offering to clean my windscreen. I thanked him for the offer but told him I never carry cash, which I don't. He smiled anyway and he washed my windscreen. After he walked off, I remembered that my barber usually insists on me paying in cash, so I often keep $20 in my glovebox. I checked, and yes, there it was. I beeped and the man came back. I handed him the $20 and thanked him. You should have seen this man's face. His eyes welled up, and he thanked me profusely, saying that this would really help him out today. That feeling that I felt in that moment is what I have been chasing ever since, and that is the very first lesson I would like to share with you all: the feeling of giving will always far exceed the joy of any other feeling.
The stark contrast for me was that the very night before I had spent far more on a dinner with friends and, don't get me wrong, I enjoyed myself and it felt good. But this simple small gesture left me feeling elated, like I was on top of the world for the entirety of the day.
For a little bit of extra context, prior to this, I often volunteered at a homeless food service at Woolloomooloo run by my Coptic church called COCOS. This allowed me to recognise that for this population, health at times takes a backseat to other priorities like food security, shelter, money or companionship and, as a result, healthcare was often neglected.
The interaction with Paddy and his friends in London, along with the interaction on the Eastern Distributor served as a catalyst for me to do something about it, and here I started my research. I dug deep, and I looked into what healthcare services were on offer to those experiencing homelessness and their health outcomes. What I learnt deeply disturbed me. I learnt that despite the best healthcare system in the world, there was a number of significant and challenging barriers which limited access to healthcare for people who were experiencing homelessness. These barriers include lack of awareness of available services; prohibitive costs; lack of transportation; level of documentation required, such as a Medicare card; structured appointment systems; stigma and embarrassment; previous negative experiences; and distrust in the practitioner.
As a result of these barriers, many Australians who are experiencing homelessness have worse health outcomes than another average Australian. Many suffer illnesses in silence. Many die of conditions which could have been treated. And many avoid interventions which could have improved quality of life or even possibly even prolonged their life.
At this point, I connected the dots. After trying to think of how to address each of the barriers I just mentioned to you all, it became somewhat evident to me: what we needed was a dedicated mobile medical service which collaborated with already existing homeless food services and shelters. It was time that we provided a service on their terms, a service which would be free, a service which would be convenient, and a service which ensured an outstanding level of care but was opportunistic in nature. The expectation that patients will and should come to us in our bricks-and-mortar hospitals and practices was evidently ineffective and it needed to change.
I reached out to everyone in my network at this point. I must admit, the cheekiness came back, and I was a bit cheeky. I would go to a large law firm like Clayton Utz, which now provides us with pro bono legal work, and I would tell them that we had volunteers ready to go, we had Mercedes-Benz of Sydney supporting us, we had collaboration with food services etc, and I would pitch them our idea. In the belief that we had all this great support, they would agree to support us. I would then go to Mercedes-Benz Sydney and tell them we had Clayton Utz, and so on and so forth until the puzzle came together. In truth I must share to you that my pitch wasn't great, slides were less than ideal, and the message not perfect, but it was clear. It was clear that I was passionate. I was naive, I was young, but I was passionate. What people could see in my eyes was a young man who had a dream of doing something for the betterment of society, and I think that spoke to the younger version of themselves, and they believed in me.
This youthful naivety and this unwavering optimism is what I hope I never lose. Looking back, had I known of the challenges, the territorialism and the bureaucracy that I was going to have to overcome, I wonder whether I would have still pursued such an ambitious goal.
Now, at this stage, the project was slowly becoming a reality. I had put most of my personal savings in and managed to get support from some of my community, including Carlos Zaki. We managed to buy a van and sent it to get custom-fitted as a medical clinic. At this stage, I had told Professor Ravi Bhindi, who at the time was my mentor, about the idea and, fortunately, he was all in to help me. Thank God for this, because about two months in the fear kicked in.
I can clearly recall a week of extreme stress and anxiety. I questioned my future. I questioned my sanity and wondered why I couldn't be fulfilled with being a doctor and just leaving it at that. I called Professor Bhindi to seek his advice. I was very early in my internship, had only been a doctor for a few months, and so I asked him if he agreed that we should just pause, leave the van in storage and wait a few years until I finished my internship and residency, and then restart where we had left off. Hearing the fear in my voice, he supported and encouraged me and gave me the reassurance I needed that we were capable of seeing this through.
This is lesson number two I want to share with you all. If anyone in the audience has ever gone skydiving, you will appreciate this analogy. When you go skydiving, you're excited. You put your suit on, you go into this plane – it's not Qantas unfortunately – which flies you up to 13,000 feet, and then they open a door. At this point, your knees are jelly and you're beyond scared. Your instructor walks you to the door and, at this stage, you're begging him not to go. They start the countdown… one, two and bam on three – you're out of that plane. They never wait till three because that's when people panic and hold on. Once you're in the air, however, you realise that this is one of the most blissful, joyful feelings you've ever felt and you wonder why you were ever scared going in. and that's my second lesson. I would like to quote Will Smith: "On the other side of fear is greatness."
I am so proud to share with you all that now Street Side Medics is a 100 per cent volunteer-run organisation with 250 volunteers, over 120 doctors, two vans and to date, has had thousands of patient interactions and positively changed the lives of many. For me, it was never about changing the lives of thousands, but at least just one.
Today, I want to tell you about two people, Fiona and Neil, whose stories deserve to be heard. Fiona is in her 50s. She had been rough sleeping in train stations for seven or eight years. One day, while sitting at a bus stop in the city, she saw our Street Side Medics van drive past. On the side of the van, it says, "No Medicare required" and she got excited. She had saved up some money, gone to an internet café and looked us up. She learnt that we had clinics in Manly, Brookvale, Woolloomooloo and Parramatta and so she decided to come to the Manly clinic the following Monday. Six weeks prior to this, she had punctured her left calf muscle with a tree branch, and despite attempting to treat it with betadine, it was getting critically worse.
Four years prior, she had entered a medical centre for a check-up but was informed by the receptionist that her Medicare card was expired, and she, therefore, had no Medicare cover and could not be seen. Fiona assumed that this had happened because she had been off the grid for a few years, not paying taxes, not getting any Centrelink support. So, you can understand her excitement when she saw "No Medicare" on our van.
At the Manly clinic, she was seen first by Dr Ilma Khan, who during the day is an intensive care registrar but was volunteering as our medical support officer. She was then seen by Dr Michael Meagher, who is a GP in Brookvale and volunteers after hours. Upon reviewing her leg, the worst-case scenario and our, greatest fear was realised. She had severe cellulitis tracking from her ankle all the way up to her mid-thigh. Underneath the cellulitis was deeply infected and necrosed tissue which could be probed all the way down to her bone, possibly suggesting a severe infection called osteomyelitis, an infection of the bone.
The conversation which initially started as crisis accommodation and antibiotics quickly changed to a hospital admission. Fiona was fearful. She had lost trust in the system and had lost faith in humanity. We promised she would be well taken care off and that we would stay involved, but she understandably resisted, stating that "People always promise things and often don't deliver." Most of all, she was concerned that she couldn't get treatment because the receptionist had told her that her Medicare had expired despite being born and brought up in Australia. After much convincing, I drove Fiona to Royal North Shore Hospital. I spoke to the emergency department consultant on shift and made sure she was going to be taken care of. Within a few minutes, the ED administrator had chased her Medicare card details and provided them to a teary Fiona. A bed in ED was ready and she was seen quite quickly.
She was admitted to Royal North Shore Hospital for three weeks. She required specialist care, intense IV antibiotics, regular wound debridement and frequent dressing changes. During this time, our team was in regular conversation with the hospital social worker and the Department of Communities and Justice, and we had lined up a caseworker for Fiona to ensure she would be given access to the services that she is entitled to. We succeeded in obtaining permanent housing for her in Guildford, which coincidentally is where she used to live, and we connected her with Centrelink and other support services.
Fiona has been living in this house now for one year and she has proudly made it her home. She has put up her own wall art and planted some plants on the front porch. She has been working full time for the past four months at a hamper warehouse. I called her on Christmas Eve to wish her a Merry Christmas and she proudly told me that she was at the Gold Coast, a trip she had bought for herself to reward herself for all of her hard work. The highlight of that trip being the train ride to get to the airport, with the train previously being her home.
If you really analyse the situation here, we were not the heroes. Fiona was. What we did was help her to overcome the barriers which limited her access to healthcare and other services, but Fiona was the one who had the courage, the dedication and the ability to forgive and have hope. For me, Fiona alone has made Street Side Medics all worth it. Fiona is in the audience with us now and I would love it if we can all please give her a round of applause.
[Applause.]
Neil, on the other hand, is 29 years old, only three years older than me. He has been homeless since the age of 17, rough sleeping due to his fear of being indoors. One night, Neil came to Woolloomooloo for some food but was approached by one of our volunteers and learnt of our medical service. He was suffering some severe ankle ulcerations and so sought the opportunity to get our medical aid, especially given this was in an environment he felt safe and comfortable.
Upon doing a routine set of vitals, which includes blood sugar levels, we detected a blood sugar of 29, which is three times above the normal level. We learnt that Neil is in fact a type 1 diabetic who had not been using insulin for the last nine months because he couldn't afford it. In hospital, if a patient had a blood sugar level that high, there would be a rapid review team and it would be a critical time to get their blood sugar lower. But not for Neil, whose glucose was consistently so high his body had got used to it. As a result of this, Neil's diabetes was out of control. He had developed peripheral arterial disease in both legs resulting in diabetic foot ulcers, diabetic retinopathy affecting his vision, and severe malnourishment causing him to be chronically dizzy, fatigued and lethargic. I would like to remind you all, Neil is 29 years old.
We have and continue to provide Neil with weekly insulin, a glucose monitoring device. We have referred him to an endocrinologist, ophthalmologist and an Indigenous health liaison officer, and we continue to care for Neil as required. I must be honest with you all. The journey with Neil is far from over, and his health is nowhere near optimised. But now Neil knows that there is a dedicated service that is available to him weekly, which he can access on his terms in an environment that suits him, with people who love and respect him, who don't judge him and who will always advocate on his behalf.
Lesson number three: As a Christian, my belief is in God and herein lies many of my values and source of inspiration. Your belief may be different, but I am sure that we could all agree that there is something out there which gives each and every one of us a passion. We don't choose those passions, but they choose us. Our responsibility is to hear them. It is to be attentive to them and to listen to them and act on them. It is our responsibility to be the very best version of ourselves if not only for ourselves, but also for the society that we are all so lucky to be a part of.
My final message is: If not now, then when? If not you, then who?
This brings me back to the first question I asked you all: What is the wealthiest place in the world?
As Les Brown explains, and I certainly have to agree, it is in fact the graveyard, because there lay many people who had business ideas they never pursued; books they never wrote; inventions they never shared; cures that were never discovered and services that were never performed. And why? Mostly because someone was too afraid to take the first step, or took the criticism to heart or, worse, because they feared failure.
Let's change that. Let's support and encourage each other to be the very best versions of ourselves and make Australia the wealthiest place in the world – the place where no matter how young, how naive, how far-fetched your idea is, you will be supported, because the worst that will happen is a lesson. Discomfort is the price of admission to a meaningful life. Thank you very much.
[Applause.]
Previous Address Speakers