Get your free tickets to the Australia Day Live Concert at the Sydney Opera House Forecourt
Free tickets for a showcase of Australian culture and talent
You don't want to miss a seated outdoor concert like this! FREE for event-goers, this Australia Day.
Limited free tickets to the COVID-safe Australia Day Live seated concert at the Sydney Opera House Forecourt will be available at www.australiaday.com.au from 18 January 2022 at 10am until booked out.
COVID-19 SAFETY
The Australia Day Council of NSW is proceeding with the Sydney 2022 program as planned in a COVID-safe way. We will adjust and make changes to the program as required.
For the health and safety of everyone, the Sydney program will be staged in line with the latest NSW Government COVID-19 guidelines.
Australia Day events in Sydney are staged at outdoor locations with large open spaces at various times of the day, so everyone can practise physical distancing.
If at any time you are not able to physically distance, please wear a face mask and wash your hands regularly with soap and water. Take hand sanitiser as well. Stay home if unwell.
People who are planning to attend the Australia Day events and activities around the state, are asked to do so in a COVID-safe way. Check with your local council for community event updates.
Always check the NSW Government website for the latest COVID-19 information.
Registrations close today for Harbour Parade
Win an awesome prize pack and exclusive view of the Australia Day fireworks.
Ready or knot, deck your boat out and celebrate our nation's day with the best party on Sydney Harbour, the Australia Day Harbour Parade. Vessels of all shapes and sizes are invited to join the flotilla and prizes will be awarded in multiple categories.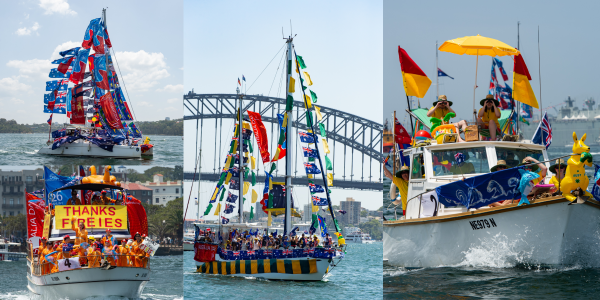 Subscribe to avoid FOMO
Subscribe to stay up-to-date with all things Australia Day.
A time to reconnect and walk together
This Australia Day, the community is encouraged to Reflect, Respect and Celebrate our nation and our people – especially our strong sense of community as we work towards reconnecting.
Australia Day 2022 is a time to recognise the resilience of all Australians and to focus on what we can achieve when we move forward as a community and a unified nation.
Australia Day means different things to different people and everyone is encouraged to acknowledge Australia Day in a way that's meaningful to them. We acknowledge the significant contribution that everyone makes to our nation, from First Nations people who have lived here for 65,000 years to our newest citizens who call Australia home.
Australia Day is an opportunity to celebrate our cultural diversity and rich migrant heritage, which is very much part of our unique Australian identity and has helped shape a nation proud of its strong and successful multiculturalism.
Regardless of our origins or our past, it's a day for Australians from all backgrounds and communities to come together to share stories, embrace our diversity, and celebrate our unity.
We all belong, and we all contribute to this nation's story and achievements.
Find details on the Australia Day 2022 program.
#AusDaySyd
Tag #AusDaySyd on Instagram to have your experience featured here!