Australia Day Ambassadors
More than 100 inspirational Australians speak about what it truly means to be Australian at events across NSW each year.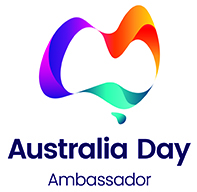 Each year, more than 100 remarkable Australia Day Ambassadors participate in Australia Day activities around NSW, sharing meaningful stories and connecting with communities.
From Olympians and Paralympians, environmentalists and foodies, to humanitarians and local heroes, these high-achieving individuals will head to all corners of NSW on 26 January, volunteering their time and energy to contribute to local festivities, with communities encouraged to come together this Australia Day to Reflect, Respect and Celebrate the Australian spirit and our diversity.
Roles and responsibilities
The activities of the Ambassadors on Australia Day are as diverse as the communities and events themselves.
Ambassadors generously volunteer their time and energy to inspire pride and celebration. They hand out Australia Day community awards, judge lamington competitions, preside over thong-throwing challenges, help cook sausage sizzles and mingle with locals over a cup of tea.
Ambassadors may also give an address that captures the spirit of being Australian and present certificates at awards ceremonies.
2023 Ambassadors
A full list of 2023 NSW Australia Day Ambassadors and the communities they visited;
| | | |
| --- | --- | --- |
| LGA | Ambassador | Credentials |
| Armidale Regional Council - Armidale | Mr Jarrod Wheatley OAM | 2019 NSW Young Australian of the Year |
| Balranald Shire Council | Mr Andrew Lock OAM | Mountaineer |
| Bathurst Regional Council | | |
| Bega Valley Shire Council | Mr Jay Allen OAM | Melanoma Crusader, 2018 NSW Australia's Local Hero Finalist and founder of Australian Skin Cancer Foundation |
| Blacktown City Council | Mr Nic Newling | Motivational Speaker and Mental Health Advocate |
| Bland Shire Council | | |
| Blayney Shire Council | Ms Catherine De Vrye | Author |
| Bogan Shire Council | Cr HY William Chan | 2020 NSW Young Australian of the Year Finalist, Architect and UNICEF Young Ambassador |
| Bourke Shire Council | Ms Robina Beard OAM | Entertainer, Dancer and Actor |
| Brewarrina Shire Council | Mr Scott Johnston | Rodeo Rider |
| Broken Hill City Council | Mr Anupam Sharma | Film Director |
| Burwood Council | Ms Amanda Rose | Founder - Business Women Media, Trainer, Business consultant and Keynote speaker |
| Byron Shire Council | Mr Allan Sparkes CV OAM VA FRSN | Former Deputy Commissioner of the Mental Health Commission of NSW, Author, Mental Health & Suicide Prevention Advocate |
| Cabonne Council | Mrs Cheryl Koenig OAM | Author, Motivational Speaker and 2009 NSW Woman of the Year |
| Camden Council | Mr Jason Sotiris | Founder - Super Tee |
| Campbelltown City Council | Mr Clyde Campbell AM | Founder - Shake It Up Foundation |
| Canterbury - Bankstown Council | Mr Graham Ross AM VMM | TV Presenter - Better Homes & Gardens |
| Carrathool Shire Council | Mr Warren Potent OLY | Olympian - Shooting, Rio 2016 |
| Cessnock City Council | Mrs Astrid Alice Hocking | Foster carer advocate and anti-violence campaigner |
| City Of Canada Bay Council | Mr Donny Galella | Fashion Designer and Stylist |
| City of Parramatta | Mr Ben Farinazzo | Invictus Games Gold Medallist - Rowing and Power Lifting |
| City Of Ryde Council | Mr Kamahl Kamalesvaran AM | Singer and Entertainer |
| Cobar Shire Council | Ms Bronte Hendricks | Disability advocate, Nominee 2021 Young Australian of the Year |
| Coolamon Shire Council | Mr Terrence O'Connell OAM | 2016 NSW Senior Australian of the Year Finalist |
| Coonamble Shire Council - Coonamble | Mr Paul Featherstone BM ASM | Senior Instructor For NSW Ambulance SCAT Team |
| Coonamble Shire Council – Gulargambone | Ms Christine Mastello | NSW 2022 Local Hero Nominee, Founder of Southlakes Inc and the Community Hair Project |
| Cootamundra Gundagai Council - Cootamundra | Mr Bruce Whatley | Illustrator |
| Cootamundra Gundagai Council – Gundagai | Ms Katryna Robinson | Founder of 'Every Little Bit Helps' Charity |
| Cowra Shire Council | Mr Eren Incekara | Pilot - Little Wings |
| Cumberland Council | Ms Anneke Van Den Broek | Businesswoman and Entrepreneur, Winner 2020 NSW Business Woman of the Year Award |
| Dubbo Regional Council – Dubbo | Mr David Hall OAM | Wheelchair Tennis Player |
| Dubbo Regional Council – Wellington | Mr Peter Herbert | Screenwriter & Producer (Acropolous Now, Skirts) |
| Dungog Shire Council | Mr Corey Payne | NSW Young Australian of the Year 2013 & Former NRL Player |
| Fairfield City Council | Mr Nicholas Gleeson | Adventurer, Motivational Speaker, Paralympian - Athletics |
| Federation Council - Corowa | Ms Ange Clarke | Founder of Where there's a Will ltd. |
| Forbes Shire Council | Mr Akash Arora | The Canberra Times Journalist and Features Director |
| Georges River Council | Professor Veena Sahajwalla FAA FTSE HonFIEAust CPEng | Inventor |
| Gilgandra Shire Council | Mr Victor Kovalenko OAM | Australian Sailing Coach |
| Glen Innes Severn Council | Mr Michael Tomalaris | SBS Journalist |
| Greater Hume Shire Council | Mr Geoff Coombes OAM | Co-Founder of Tour De Cure |
| Griffith City Council | Mr Khushaal Vyas | Multicultural NSW Youth Medal Winner |
| Gwydir Council - Warialda | Mr Bob Fitzgerald | 2019 NSW Volunteer of the Year |
| Hawkesbury City Council | Mr Greg Donovan | Founder of Born to Run, Motivational Speaker |
| Hay Shire Council | Ms Isabella Bain | Nominee 2021 Young Australian of the Year, Co-Founder of Ambient and Co and World Champion Athlete |
| Hilltops Council - Boorowa | Ms Susanne Gervay OAM | Childrens Author |
| Hilltops Council - Harden | Ms Sonia Gandhi | Director, Gandhi Creations and Board Member of Multicultural NSW |
| Hilltops Council – Young | Mr Mark Warren | Commentator |
| Hunters Hill Council | Mr Tasman Cassim | Head of Partnerships at Black Dog Institute and Founder of the Superhero Walk |
| Inverell Shire Council | Ms Sascha Estens | Founder of Rabbit Hop Films |
| Junee Shire Council | Dr Benjamin Veness | Churchill Fellow and President of the Australian Medical Students' Association |
| Kempsey Shire Council | Ms Jolene Anderson | Actress and Singer |
| Kiama Municipal Council | Mr Warwick Nowland | World Superbike Champion |
| Ku-ring-gai Council | Special Olympics Dance Performance Group | Special Olympics Dance Performance Group |
| Kyogle Council – Kyogle | Mr Mike Goldman | TV Presenter |
| Kyogle Council - Woodenbong | Mr Brad Farmer AM | Founder of Surfrider Foundation and National Ocean Care Day |
| Lachlan Shire Council | Ms Carolyn Mee | Founder of Sound Scouts |
| Lane Cove Council | Mrs Mary-Ruth Mendel | Speech and Language Pathologist |
| Leeton Shire Council | Mr Peter McLean | Executive Officer of the Australian Organics Recycling Association and former NSW CEO of Keep Australia Beautiful |
| Lismore City Council | Mr Andew Paschalidis | Sports Presenter & Soccer Commentator |
| Lithgow City Council | Mr Peter Frazer OAM | Founder of the Safer Australian Roads and Highways (SARAH) Group and 2020 NSW Local Hero Nominee |
| Liverpool City Council | Mr Jo Brigen-Jones | Olympian - Sprint Kayaker, Motivational Speaker |
| Liverpool Plains Shire Council | Mr Rob Caslick | Social Entrepreneur & Founder of Two Good Co |
| Lockhart Shire Council | Mr Yianni Johns | Artist |
| Mid-Western Regional Council | Ms Catriona Rowntree | TV Presenter |
| Mosman City Council | Ms Kath Koschel | Former Cricket Player and Founder of the Kindness Factory |
| Murray River Council | Mr James Willett | Toyko 2020 Olympian - Shooting |
| Murrumbidgee Council | Ms Lyndey Milan | Celebrity Chef |
| Nambucca Valley Council | Ms Susie Elelman AM | Author, TV & Radio Broadcaster |
| Narrabri Shire Council | Ms Taylor Corry | Paralympian - swimming |
| Narrandera Shire Council | Ms Lindy Hou OAM | Paralympic Medallist - Cycling, Athens 2004 |
| Narromine Shire Council | Ms Donna Burton | Astronomer, Science Communicator and Presenter |
| Northern Beaches Council | Ms Liz Deep-Jones | TV Presenter, Journalist and Author |
| Oberon Council | Ms Viv Kartsounis | Founder of Shoes for Planet Earth |
| Orange City Council | Dr Norman Swan | Medical Broadcaster - ABC Health |
| Parkes Shire Council | Ms Emma Rossi | Media Executive and Former TV Presenter |
| Port Macquarie Hastings Council | Mr John Lee | Founder - You Have a Friend charity |
| Port Stephens Council | Professor Heidi Norman | Australian Researcher and Aboriginal Political Historian |
| Queanbeyan-Palerang Regional Council - Queanbeyan | Mr Kumar Pereia | Celebrity Chef |
| Randwick City Council | Ms Kumud Merani | Producer SBS Radio and Premier's Multicultural Media Award Winner 2013 |
| Shellharbour City Council | Mr Ricardo Goncalves | Journalist and SBS News Presenter |
| Snowy Monaro Regional Council – Bombala | Mr John Harper | Founder of Mate Helping Mate (Mental Wellbeing Awareness) |
| Snowy Monaro Regional Council - Cooma | Mr Jeremy Jones AM | Community Leader and 2016 recipient of the Multicultural NSW Stepan Kerkyasharian AO Harmony Award |
| Snowy Valleys Council - Tumut | Mr Bruce Elder | Writer and Music Journalist |
| Strathfield | Mr Christopher Cheng | Author |
| Tamworth Regional Council - Barraba | Ms Tanya Silveira-Price Dr | Music Therapist |
| Tamworth Regional Council- Manilla | Ms Suzanne Hopman | CEO and Dignity, Nominee 2021 NSW Local Hero |
| The Hills Shire Council | Dr Cindy Pan | Media Doctor, Author, Columnist and Radio Presenter |
| Ulladulla Milton Lions Club | Mr Peter Wilkins | Former TV Presenter & Sports Commentator |
| United Australian Lebanese Movement | Ms Joanne Taranto | Director and Co-founder of Good for the Hood, Sustainability Engagement Consultant and Speaker. |
| Upper Hunter Shire Council - Merriwa | Ms Promila Gupta OAM | Premier's 2018 Multicultural Regional Community Medal Winner |
| Upper Hunter Shire Council - Scone | Mr James Pittar | Endurance Swimmer |
| Upper Lachlan Shire Council | Ms Sophie Smith OAM | Founder of Running for Premature Babies |
| Uralla Shire Council | Mr Gary Dawson OAM | Keynote Speaker and Golfer |
| Wagga Wagga City Council | Mr Bob Turner | Sports & Business Executive |
| Walcha Council | Ms Jacinta Tynan | Author, Columnist and SKY NEWS Anchor |
| Walgett Shire Council | Mr John Wearne AM | Bingara Community Leader |
| Warren Shire Council | Mr Keith Potger AO | Founding member of The Seekers |
| Warrumbungle Shire Council - Coolah Community | Mr Bruno Efoti | Founder of Tradies in Sight |
| Warrumbungle Shire Council - Coonabarabran | Mr Ronald Delezio | Co-Founder & Co-Director of Day of Difference Foundation |
| Weddin Shire Council | Mr Geoff Lawson OAM | Former Australian Cricketer, Former Coach of the Pakistan Cricket Team |
| Wentworth Shire Council | Dr Clio Creswell | Mathematician, Writer, Media Personality |
| Willoughby City Council | Mr George Ellis | Conductor, Composer and Musical Arranger |
| Wingecarribee Shire Council | Ms Mel Thomas | Journalist, Author & Founder of the KYUP! Project |
| Wollondilly Shire Council | Mr Warren Kermond OAM | Entertainer |
| Yass Valley Council | Mr David Bitton | Chef |