Where
Sydney Harbour Bridge
Sydney Harbour, Sydney, NSW, 2000
Share
An annual crowd favourite, Ferrython sees thousands of spectators line the shores of Sydney Harbour to cheer on four of the city's iconic Emerald Class ferries as they compete for honours in a race across the waves.
For 2024, the excitement has been dialled up even more with an all-new race route! The ferries will complete two laps from Fort Denison to the finish line beside the Sydney Harbour Bridge, allowing the vessels to reach speeds unparalleled since the inception of Ferrython on Australia Day in 1977.
The ferries taking part in 2024 are May Gibbs, Catherine Hamlin, Bungaree and Fred Hollows. Each boat will be brightly dressed in honour of their namesake.
To catch the action and support the ferries as they speed by, head to one of the many free vantage points. Best spots include Mary Booth Reserve, Circular Quay, Hickson Road Reserve, Campbells Cove, Royal Botanic Garden, Sydney Opera House and Mrs Macquarie's Chair.
Want to watch Ferrython from a vessel? Click here for exclusion zones, on-water vantage points and other information.
Ferrython Route Map and Vantage Points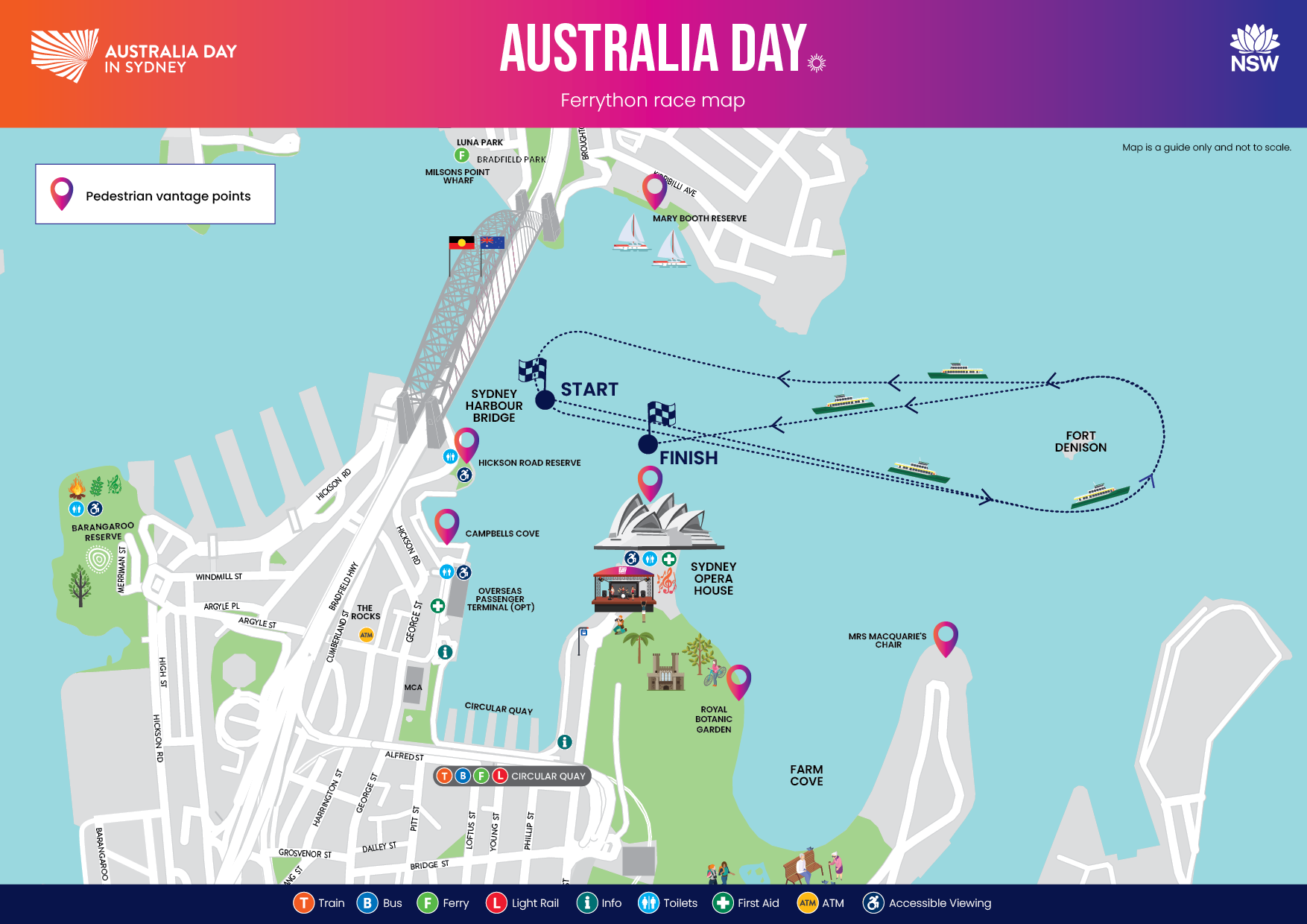 While you can't buy tickets to board a ferry for the big race, you could still be part of the excitement with a limited number of free tickets available to win.
Subscribe to the Australia Day in NSW newsletter and follow us on Facebook, Instagram and X for more updates and announcements closer to the date.