In this leg of the road trip, Adam and crew head to Gloucester and try something new.
In Gloucester, Adam rides the rapids of an iconic Australian river, and happens upon the most awesome Aussie backyard complete with sheep and a goal post.
Give in to your thrill-seeking side
Regional travel is also the perfect opportunity to give in to try something new. Which is exactly what Adam and crew did in Gloucester.
Only a 3-hour drive from Sydney, the gorgeous town of Gloucester is the perfect mix of nature and adventure, great for bushwalking, camping and river adventures.
Barrington Outdoor Adventure Centre offers canoeing, kayaking, abseiling and mountain bike adventures — perfect if you've got energy to burn and looking for something active to do on your road trip.
Watch Adam ride the rapids of an iconic Aussie river in the video above.
Discover some fresh food treasures
Once you've worked up an appetite, make sure you visit Gloucester Farmers Market. On every second Saturday of each month, Gloucester Farmers Market is a treasure trove of fresh fruit and vegetables, baked goods, cheeses, artisan-made local produce, music, and much more.
Learn more about Gloucester Farmers Market.
Adventure on two wheels
If water isn't your thing, Gloucester has something for those who prefer their thrills on two wheels. Steps Mountain Bike Park offers fun for people of all ages and skill level. There's a purpose-built biking attraction with 3.5kms of cross-country trails to explore.
Learn more about Steps Mountain Bike Park.
Safety first before you go
Staying safe is important for any road trip. Check out our top safety tips before you start planning.
Stay COVID Safe on the road
Check nsw.gov.au/covid-19 regularly for what you can and can't do under the rules, health and wellbeing advice, case locations, symptoms and testing clinics. If you feel sick, delay your trip and get a COVID test.
Subscribe and stay in the loop
Subscribe to stay up-to-date with all things Australia Day.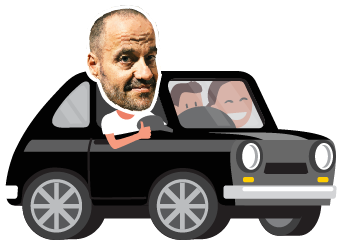 Note: Adam Spencer is an Australia Day Ambassador. While the NSW Government paid Adam to appear in the "Love an Aussie Road Trip" video series, Adam and family paid all their own expenses. Adam and family did not accept any gifts. The inclusion of tourism operators and businesses in the video series and on this website is not an endorsement.