Heroes of the Royal Flying Doctor Service
In Dubbo, Adam meets the heroes of the emergency unit in the air and a former patient who owes his life to them.
Bush legends
The past few years have been tough for Australians. From bushfires, drought and now the pandemic, in the depths of our struggles, we see the rise of great leaders, from local community members to those in charge.
There's ex-NSW Fire Commissioner and current leader of Resilience NSW, Commissioner Shane Fitzsimmons AFSM, who is the 2021 NSW Australian of the Year. His grounded leadership style guided the state-wide response to the fires, and the NSW RFS volunteer base of over 74,000 people. In true Aussie spirit, Shane's calm demeanour and empathy brought strength to those around him during this difficult time.
Watch the 2021 National Australian of the Year broadcast live on 25 January at 7.30pm on ABC TV.
Healthcare heroes
Established in 1928, the Royal Flying Doctor Service (RFDS) is one of the largest non-profit aeromedical organisations in the world. It's pilots, nurses and doctors travel to the furthest corners of our country to ensure every Australian has access to healthcare and emergency services. Today, someone in Australia calls the RFDS for help every 2 minutes.
The Flying Doctor Visitor Experience is located next to Dubbo City Regional Airport. Make sure you pay a visit to this interactive centre to gain perspective on the challenges faced by outback communities through immersive storytelling.
Watch Adam and the crew visit the Royal Flying Doctor Service Visitor Experience in Dubbo during their road trip in the video above.
You can be a hero too
By visiting fire and drought affected areas on your next road trip, you're helping rebuild the economy and livelihood of our regional farmers and communities. From eating local produce, shopping at local businesses, or even booking a farm stay, there are many ways you can make an impact.
Safety first before you go
Staying safe is important for any road trip. Check out our top safety tips before you start planning.
Stay COVID Safe on the road
Check nsw.gov.au/covid-19 regularly for what you can and can't do under the rules, health and wellbeing advice, case locations, symptoms and testing clinics. If you feel sick, delay your trip and get a COVID test.
Subscribe and stay in the loop
Subscribe to stay up-to-date with all things Australia Day.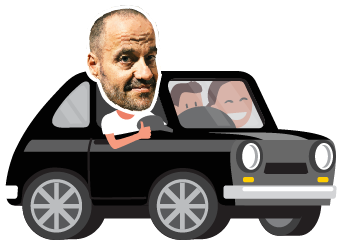 Note: Adam Spencer is an Australia Day Ambassador. While the NSW Government paid Adam to appear in the "Love an Aussie Road Trip" video series, Adam and family paid all their own expenses. Adam and family did not accept any gifts. The inclusion of tourism operators and businesses in the video series and on this website is not an endorsement.