Oz Day 10K Wheelchair Race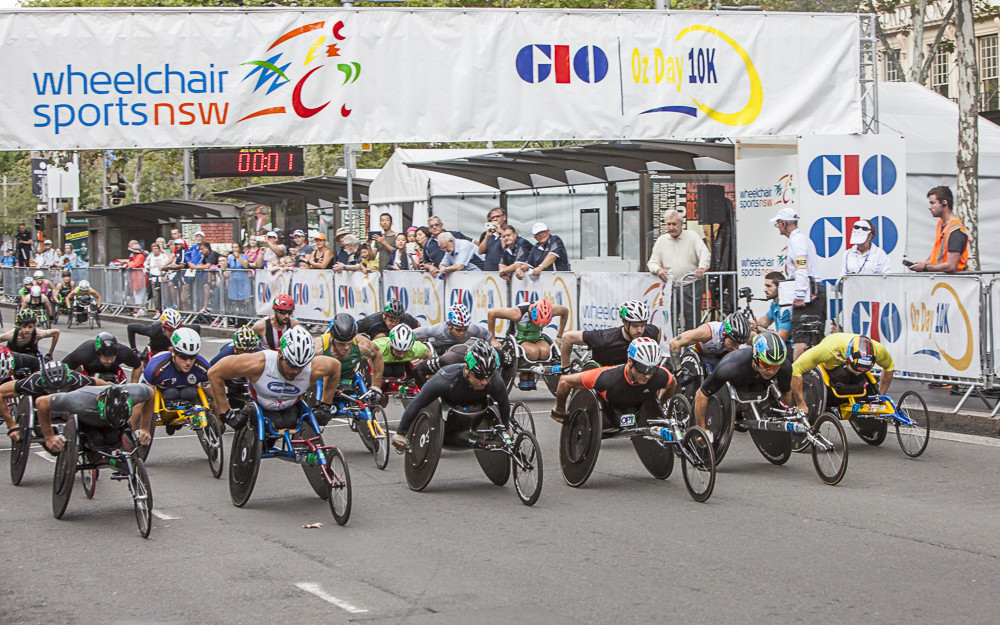 Where
Museum of Contemporary Art, 140 George St, The Rocks, NSW, 2000
The champions of the chairs rip up The Rocks in the fastest street circuit race in Australia. Cheer on your favourite athlete.
Vantage points
The start and finish line is outside the Museum of Contemporary Art. Warm up starts at 8am. The race starts at 9am. The best vantage points are George Street in The Rocks and Hickson Road.
The annual GIO Oz Day 10K race is one of the greatest wheelchair road races on Earth.
In 2021, the best athletes from Australia will come together on January 26 to compete on the tightest and most technical course in the world through The Rocks.
The Governor of NSW, Her Excellency the Honourable Margaret Beazley AC QC, will start the race, which is celebrating its 32nd year.
The race features superstar athletes, some incredible untold stories and Paralympians of the future.
The Oz Day 10k Wheelchair Race is delivered by Wheelchair Sports NSW. They are responsible for adhering to any relevant public health orders, as well as preparing and implementing a COVID Safety Plan (if required).
Being COVID Safe is a responsibility we all share
Practice safe behaviour wherever you go. Check nsw.gov.au/covid-19 for health and wellbeing advice, case locations, symptoms, testing clinics and what you can and can't do under the rules.
Summer Down Under
The full GIO Summer Down Under Wheelchair Road Racing series runs from 18 to 27 January 2021.
Visit the Wheelchair Sports NSW website to see other events in the Summer Down Under series.
About Wheelchair Sports NSW
Wheelchair Sports NSW is a charitable organisation responsible for the development, promotion and delivery of wheelchair sports in NSW.
Since 1961, the organisation has made sport available to those in the community affected by spinal injury, spina bifida and similar disabilities.
The strong success of the Paralympians at the London 2012 and Rio 2016 Paralympics has succeeded in increasing the profile of wheelchair sports in NSW and made many of the athletes household names across Australia.
For more information, visit the Wheelchair Sports NSW website.
Like the Wheelchair Sports NSW Facebook page and join the conversation on Twitter using #OzDay10k.