Australia Day in Port Macquarie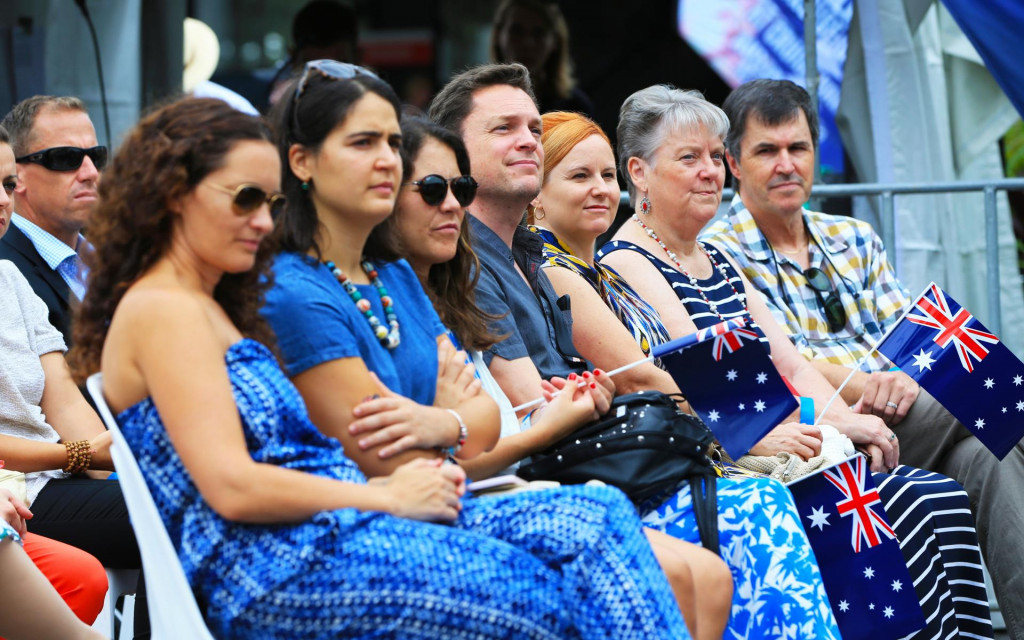 Where
Various locations in the Port Macquarie local government area
Important Information
Accessible
Free access
Bookings required
Online event
Official Australia Day Ceremony in Port Macquarie
Our community are invited to attend the annual Australia Day Official Ceremony, taking place in the Glasshouse.
Join us in celebrating the deserving locals within our community who go above and beyond through the Port Macquarie-Hastings Council's Australia Day Awards.
Come along and show your support to both our local Australia Day Award nominees and our community members as they take their final step in officially becoming Australian Citizens. Doors to the theatre open at 9.00am with the ceremony commencing at 9:30 AM and concluding at approximately 11:30 AM.
Tickets are available via the Glasshouse from 11th January 2021 by calling (02) 6581 8888, or by visiting the customer service desk. Please note there will be no tickets available on the day of the event. Bookings are essential to this ticketed FREE event as numbers strictly limited due to current NSW Health regulations.
Unlike previous year's there will be no official ceremony held at Wauchope or Laurieton in 2021. The event will be livestreamed from the Glasshouse with more information on how to view the ceremony available from Council's website as we move closer to our national day.
A day of entertainment in Hastings
There's plenty on at Westport Park on Australia Day! Hastings Summer Waves is shaping up to have something for everyone.
Come along and watch some of the greatest local and international talent, and enjoy a day of entertainment. There'll be:
seated live entertainment including the Bee Gees Tribute Band, comedy and magic
market stalls
arts and crafts
food.
Bookings are essential for the live entertainment zone, and will be priced at $10 per ticket. Head to Council's website for a link to booking platform. Event commences from 9:00am to 2:00pm
Australia Day Pool Parties at Laurieton and Wauchope
Spend the day at the pool at one of two of our Australia Day Pool Parties! Hosted at Laurieton Pool and Wauchope Pool, the fun begins at 11 AM and will continue until 3 PM! There's plenty on offer at both events, with a range of activities planned at both locations. Bookings are essential at both pool parties, with tickets priced at $5 per entry - as numbers are strictly limited due to current NSW Health regulations. To book your tickets, head to Council's website for a link to booking platform. Each pool party runs from 11:00 AM to 3:00 PM.
Mountain biking at Jolly Nose Mountain Bike Park
Join the Hastings Valley Mountain Bike Riders for a 'come and try day'!
A variety of trails, rides, and tours of the trail network are planned, catering for all community members - no matter the skillset.
Whether you're an experienced mountain biker or a newbie, come along for an awesome day outdoors! There will be the Char Bar food truck, guided tours, and free vehicle uplifting so you can ride down the mountain trails like a pro!
Bring your bike, helmet and mosquito spray and be ready for the fun to kick off at 2 PM until 5 PM.
Bookings are FREE but essential, as numbers are strictly limited due to current NSW Health regulations. To book your tickets, head to Council's website for a link to booking platform.
Aquatics activities on the Hastings river
As you stroll through Town Green on Australia Day 2021, look out for the awesome marine display floating along the Hastings River. Vessels from our Maritime Museum, Flamin Dragons, and Marine Rescue will be out and about on our beautiful Hastings River between 10:00 AM and 1:00 PM. Be sure to catch a glimpse as you walk on by!
These events are delivered by Port Macquarie-Hastings Council.
Being COVID Safe is a responsibility we all share
Practice safe behaviour wherever you go. Check nsw.gov.au/covid-19 for health and wellbeing advice, case locations, symptoms, testing clinics and what you can and can't do under the rules.
Please note: Occupiers of premises or event organisers are responsible for adhering to any relevant public health orders, as well as preparing and implementing a COVID Safety Plan (if required). For the most up to date information about this event, please refer to the event organiser's website.