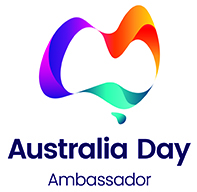 Each year, Australia Day Ambassadors take part in local council Australia Day celebrations.

Ambassadors are from diverse fields including the arts, sport, science, business, government and entertainment. They all share the common traits of achievement through hard work, talent and a strong sense of patriotism.
Roles and responsibilities
The activities of the Ambassadors on Australia Day are as diverse as the communities and events themselves.
Ambassadors generously volunteer their time and energy to inspire pride and celebration. They hand out Australia Day community awards, judge lamington competitions, preside over thong-throwing challenges, help cook sausage sizzles and mingle with locals over a cup of tea.
Ambassadors may also give an address that captures the spirit of being Australian and present certificates at awards ceremonies.
2021 Ambassadors
Australia Day 2022 Ambassadors will be announced in December.