In Wellington, Adam is welcomed with open arms by a mate who's taken the family bush.
Life on the land
With so much of our national prosperity coming from agriculture, Australia is renowned for "riding on the sheep's back". But life on the land isn't easy.
During Adam's road trip, he made a special stop in the picturesque town of Wellington to visit Tom Power, an old mate who gave up the city-slicker life for country living. Tom is one of many farmers whose property was ravaged by severe drought. However, with the help of the local community, Tom's drought stricken farm transformed to lush green paddocks, in only 12 months.
Meet Tom, hear his story, and see his gorgeous farm in the video above.
Get a taste of country life
Even if you're not lucky enough to have a mate who owns a farm, there's still a way to give your kids some quality farm time during the family road trip. Farm stays are a popular choice for families looking to give their kids a taste of country life. Not only are farm stays affordable, they:
take you away from the hustle and bustle
let you get up close and personal with animals
give you as much activity or down time as you need.
Find the right farm stay for you and your family or friends.
Safety first before you go
Staying safe is important for any road trip. Check out our top safety tips before you start planning.
Stay COVID Safe on the road
Check nsw.gov.au/covid-19 regularly for what you can and can't do under the rules, health and wellbeing advice, case locations, symptoms and testing clinics. If you feel sick, delay your trip and get a COVID test.
Subscribe and stay in the loop
Subscribe to stay up-to-date with all things Australia Day.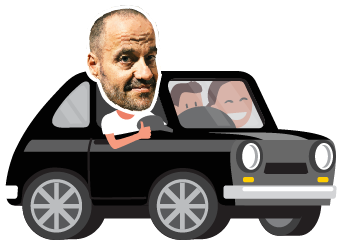 Note: Adam Spencer is an Australia Day Ambassador. While the NSW Government paid Adam to appear in the "Love an Aussie Road Trip" video series, Adam and family paid all their own expenses. Adam and family did not accept any gifts. The inclusion of tourism operators and businesses in the video series and on this website is not an endorsement.