On the last leg of the journey, Adam and crew stop at South West Rocks, the perfect mix of nature and colonial heritage experiences.
On the last leg of the journey, Adam and crew stop at South West Rocks, the perfect mix of nature and the best of beach cricket.
Dunghutti land
South West Rocks, known locally as The Rock, is on Dunghutti land. Traditionally a place of gathering and ceremony for the Dunghutti, Gumbaynggir and Biripi nations, the headland represents a 'song line' or 'energy line' between Mount Yarrahapinni and the hills around Arakoon. This seaside gem is also a popular family holiday spot. And it's easy to see why, with an abundance of natural beauty shining at every turn.
Take in some colonial history
During their time at South West Rocks, Adam and crew take a guided tour of Trial Bay Gaol. This picturesque historical ruin is the perfect place to step back in time and get a glimpse into some Australian history.
Find out if Adam was found guilty of telling bad Dad jokes in the video above.
Meet the locals
When you're on a road trip, there's nothing better than taking the time to meet the locals. It's a great way to learn more about a place and listen to interesting stories that you can take home with you.
Go surfing
If you want to connect with nature, have fun and be active, then maybe surfing is for you. Jumping off the beach towel and onto a board, Adam and the girls decided to try some surfing with help from longboard legend, Belen Fuller from Salty Girls Swim School.
Find out how Adam does on a surfboard in the video above.
Safety first before you go
Staying safe is important for any road trip. Check out our top safety tips before you start planning.
Stay COVID Safe on the road
Check nsw.gov.au/covid-19 regularly for what you can and can't do under the rules, health and wellbeing advice, case locations, symptoms and testing clinics. If you feel sick, delay your trip and get a COVID test.
Subscribe and stay in the loop
Subscribe to stay up-to-date with all things Australia Day.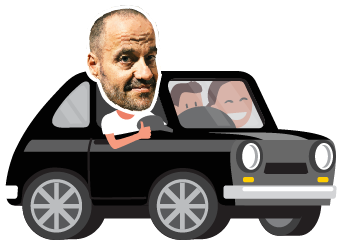 Credit: Aerial photo above is courtesy of Destination NSW.
Note: Adam Spencer is an Australia Day Ambassador. While the NSW Government paid Adam to appear in the "Love an Aussie Road Trip" video series, Adam and family paid all their own expenses. Adam and family did not accept any gifts. The inclusion of tourism operators and businesses in the video series and on this website is not an endorsement.