If you enjoy the finer things in life, Mudgee is your go-to destination. Bursting with fresh local produce and award-winning wines, it's a short 3.5 hour drive northwest from Sydney. It's also the first stop in Love an Aussie Road Trip.
Add it to your itinerary and meet the friendly locals who make the Mudgee wine and dine experience so very special.
Watch episode 2 of "Love an Aussie Road Trip" video series to see Adam Spencer visit Skimstone Wines and chat with owner Jean-Francois.
A foodie's heaven – French style
In Mudgee, Adam meets a French rugby player turned winemaker, with a passion for Italian varieties. The kids miraculously turn into mini MasterChefs at dinner time.
Food
From quaint cafes to up-market restaurants, Mudgee has something for everyone thanks to its local farmers, dedicated foodies and award-winning chefs.
Farmers
Farming is a big contributor to Mudgee's economy and the industry is thriving. With rich soils and fertile lands, there are hundreds of farms across the region.
Show your support of local farmers by visiting a market. The Mudgee Farmers' Market is a popular choice and every product must be grown, reared, caught, brewed, baked, smoked or processed by the stallholders themselves.
For a more in-depth experience, Mudgee Fine Foods run guided farm walks. It's a good excuse to get your hands dirty, learn from the producers and see first-hand where your food comes from.
Local foodies and chefs
Fine-dining lovers will appreciate Pipeclay Pumphouse at Robert Stein Vineyard and Winery. Head chef Andy Crestani follows a 'paddock to plate' philosophy, with a seasonal menu inspired by local produce.
For something more casual, Adam and the gang discovered a local favourite. Smokin' Bro and Co. specialise in American style barbecue with tender brisket, beef ribs and more, straight from a food truck.
Wine
Beautiful food deserves beautiful wine, and there's no better place for it than Mudgee.
Mudgee's wine growing history dates back to 1858. It's one of Australia's oldest wine regions, and the home of Australia's first identified Chardonnay.
Today it boasts over 60 wineries and 35 cellar doors. It's the third largest grape producing region in NSW and well-known for its reds.
Situated on the western slopes of the Great Diving Range, Mudgee has some of Australia's best wine making conditions. It's no wonder winemakers have put down roots in this plentiful region.
Local winemakers
With over 40 multi-generational cellar doors, family and wine go hand in hand in Mudgee.
Father and son duo, Simon and Will Gilbert, run the award-winning Gilbert Family Wines. They specialise in riesling, rosé and shiraz and were recently awarded the Best Tasting Experience by Gourmet Traveller Wine in 2020.
If white is more your style, Craigmoor is Mudgee's oldest winery and vineyard, and pioneer of the Australian chardonnay. Founded by the late Robert Oatley OA, it remains in the Oatley family.
Global winemakers
Adam and Leah love their food and wine, so it only made sense for them to set up a tasting at Skimstone Wines, a boutique winery that specialises in Italian varieties.
Head winemaker Jean-François Esnault was born in Bordeaux, France, and is just one of the many locals who've moved across the globe to call Mudgee home.
Established in 2009, Skimstone is on a mission to "simply make great wine." Their estate-grown wines are fruit-driven and characterised by depth, vibrancy and delicacy.
Safety first before you go
Staying safe is important for any road trip. Check out our top safety tips before you start planning.
Stay COVID Safe on the road
Check nsw.gov.au/covid-19 regularly for what you can and can't do under the rules, health and wellbeing advice, case locations, symptoms and testing clinics. If you feel sick, delay your trip and get a COVID test.
Subscribe and stay in the loop
Subscribe to stay up-to-date with all things Australia Day.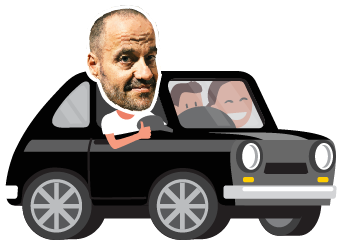 Note: Adam Spencer is an Australia Day Ambassador. While the NSW Government paid Adam to appear in the "Love an Aussie Road Trip" video series, Adam and family paid all their own expenses. Adam and family did not accept any gifts. The inclusion of tourism operators and businesses in the video series and on this website is not an endorsement.