Nestled at the mouth of the Hastings River is the seaside town of Port Macquarie. It's also the next leg of Adam's road trip.
A pit stop to see our furry friends
In Port Macquarie, Adam meets his long-lost marsupial cousin and country legend John Williamson (well, kind of) and the kids take to the sand dunes for a bumpy ride.
Visit an Aussie treasure
Koalas are an Aussie icon. Sadly, they currently face the serious threat of habitat loss, even more so following the devastating bushfires of last summer. Koalas also face risk from cars, dog attacks, and even diseases like Chlamydia.
It's not always easy to spot these snooze machines in the wild. They sleep for about 22 hours a day! But one place you can see them is at the Port Macquarie Koala Hospital.
Established in 1973, the Port Macquarie Koala Hospital rehabilitates between 200-250 injured and sick Koalas every year. The hospital also conducts research with Sydney University, Queensland University of Technology and the Australian Museum into koala diseases.
A visit to Port Macquarie Koala Hospital is a worthy stop on your next road trip. You'll learn about how habitat, bushfires and medical issues affect koalas, and what we can do to help. Be sure to pre-book a tour online before you head down to see our furry friends.
Are you curious to know what a koala mating call sounds like? Watch Adam chat to Clinical Director, Cheyne Flannagan in the video above to find out for yourself.
Be sure to check out a beach
Port Macquarie has 17 beautiful beaches to choose from, so finding a spot of sand to roll out your towel isn't hard.
Besides catching waves, did you know you can also hop on a camel? If you're after something a little different, Lighthouse Beach in Port Macquarie is famous for its camel rides.
Check out the hairy, sweaty and stinky long-haul trucks of the outback in the video above.
You won't go hungry
Port Macquarie is also a booming destination for food and wine. From fresh oysters, vineyards, craft beers and renowned restaurants, this region is packed with something to suit every palate.
Safety first before you go
Staying safe is important for any road trip. Check out our top safety tips before you start planning.
Stay COVID Safe on the road
Check nsw.gov.au/covid-19 regularly for what you can and can't do under the rules, health and wellbeing advice, case locations, symptoms and testing clinics. If you feel sick, delay your trip and get a COVID test.
Subscribe and stay in the loop
Subscribe to stay up-to-date with all things Australia Day.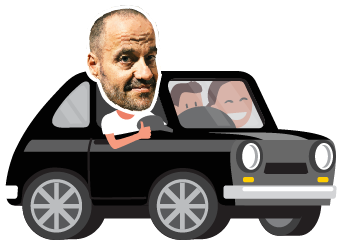 Note: Adam Spencer is an Australia Day Ambassador. While the NSW Government paid Adam to appear in the "Love an Aussie Road Trip" video series, Adam and family paid all their own expenses. Adam and family did not accept any gifts. The inclusion of tourism operators and businesses in the video series and on this website is not an endorsement.