In this episode, Adam and crew visit Parkes, home of the Aussie hero who played a key role in the moon landing.
In Parkes, it's one giant leap for Adam's road trip as he meets the Aussie hero of the moon landing and a local artist whose work is featured on the $1 coin.
Meet Murriyang, otherwise known as The Dish
Parkes is home to the iconic CSIRO Parkes Radio Telescope and only a 5-hour drive from Sydney. Known as 'The Dish,' and named 'Murriyang' by Wirradjuri Elders, this telescope is an Aussie space hero and played an instrumental role in the Apollo 11 moon landing. There's even a whole movie about it, you may have heard about it, it's called The Dish and stars Sam Neil.
Watch Adam get his geek on at The Dish in the video above.
A place where First Nations culture is embraced
Proudly on Wirradjuri land, the Wirradjuri language is even taught in local schools. What a wonderful example of modern and ancient Australian cultures co-existing.
Hear more from local Peak Hill artist Sauce Towney in the video above.
Fly through the sky and history
If you prefer clouds over stars you won't have far to go. The Parkes Aviation Museum is perfect for blue sky lovers and aviation enthusiasts.
Aviation is a big part of the Parkes' story. The Parkes Aviation museum has one of the largest aircraft collections on display, with many planes on show open for you to climb into and explore with the kids. It's also a great opportunity for you to teach them about Australia's aviation history.
Watch as Adam and his crew explore the best of stars and sky in the video above.
Safety first before you go
Staying safe is important for any road trip. Check out our top safety tips before you start planning.
Stay COVID Safe on the road
Check nsw.gov.au/covid-19 regularly for what you can and can't do under the rules, health and wellbeing advice, case locations, symptoms and testing clinics. If you feel sick, delay your trip and get a COVID test.
Subscribe and stay in the loop
Subscribe to stay up-to-date with all things Australia Day.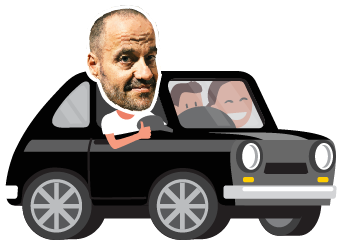 Note: Adam Spencer is an Australia Day Ambassador. While the NSW Government paid Adam to appear in the "Love an Aussie Road Trip" video series, Adam and family paid all their own expenses. Adam and family did not accept any gifts. The inclusion of tourism operators and businesses in the video series and on this website is not an endorsement.