Aussie sporting culture is one of a kind. It's ingrained in our national identity, reminds us of values like mateship, having a go and community spirit, and unites us like not much else. It's also a big contributor to regional economies, tourism, health, social connection, happiness and more.
So on your next road trip, make sure you check out some local sport. And who knows, we might have just found a future Matilda.
Getting to the heart of a community, through sport
In Mudgee, Adam has a kick with our next generation of Socceroos and Matildas and realises he should stick to his day job and leave football for the talent of regional Australia.
Sport is a powerful catalyst for change and connection
Local sports have significant impact on economic, social and health outcomes in rural and regional towns. And in refugee welcome zones, like Coffs Harbour, sport unites people from all walks of life and parts of the world where it helps families overcome communication and language barriers and find a way to come together as one.
In the video above, watch Adam chat with a local about their love of sport.
It's a great way to check out local talent
Whether it's a junior game or amateur professionals, getting to a local sports field can be a great way to meet locals and hear some interesting stories. And with approximately 6500 community clubs across Australia, you can bet there's a game waiting to be watched near you.
In the video above, watch Adam's skills on the field as he tries to outshine the young Mudgee Gulgong Wolves.
You might just see a future star in the making
All champions must start somewhere, and it's usually with a local sports team. The unique environment and culture of regional areas have proven to produce some of Australia's most elite athletes. Many of our up-and-coming sporting stars are coming from the bush. Socceroo Rhyan Grant comes from Canowindra, a small town in the Orange region with a population of under 3000 people. A couple of towns over, Cowra is home to Matilda Ellie Carpenter. Matilda not only plays for the national team but has recently signed with the renowned Olympique Lyon in France. Keep an eye out for Matilda at the FIFA Women's World Cup set to hit Australia in 2023.
In the video above, watch Adam chat to Kenny Sutcliffe, an Australian sports journalist.
Give in to your thrill-seeking side
Regional travel is also the perfect opportunity to give in to try something new.
Only a 3-hour drive from Sydney, the gorgeous town of Gloucester is right next to the world heritage Barrington Tops National Park. This area is the perfect mix of nature and adventure, great for bushwalking, camping and river adventures. It's a great place to immerse yourself in the wilderness while getting active.
The Barrington Outdoor Adventure Centre offers canoeing, kayaking, abseiling and mountain bike adventures. There's something for the whole family.
Safety first before you go
Staying safe is important for any road trip. Check out our top safety tips before you start planning.
Stay COVID Safe on the road
Check nsw.gov.au/covid-19 regularly for what you can and can't do under the rules, health and wellbeing advice, case locations, symptoms and testing clinics. If you feel sick, delay your trip and get a COVID test.
Subscribe and stay in the loop
Subscribe to stay up-to-date with all things Australia Day.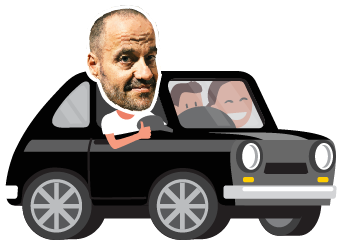 Note: Adam Spencer is an Australia Day Ambassador. While the NSW Government paid Adam to appear in the "Love an Aussie Road Trip" video series, Adam and family paid all their own expenses. Adam and family did not accept any gifts. The inclusion of tourism operators and businesses in the video series and on this website is not an endorsement.