After a tumultuous year of lockdowns and travel bans, Adam Spencer decided a 10-day road trip around regional Australia was the perfect adventure. Here's his top 10 road tip tips.
Join Adam Spencer as he brings the Aussie road trip to you, wherever you are.
1. Plan the long haul drives early
"Especially if you're travelling with kids. By day 10, they'll be well and truly over long drives and the dad jokes. So get the long hauls in early while everyone is fresh and they've still got some novelty value."
2. Mates are a must
"You must know someone you went to school with, worked with, or used to live down the road from, who has "gone bush". If so, work your road trip around these mates. Not only will they appreciate the company, but you get a true country experience. Without doubt the highlight of our entire trip was an afternoon on a mates' farm."
3. No mates? Book a farm stay
"Watching our kids herd sheep and ride tractors was a real buzz. And they loved it too. They experienced a different way of life and one that many outback Aussies call the norm. I highly recommend it. NSW Farm Stays is a great resource where you can find places that have animals and light management of the farm."
Things to do in NSW
Check visitnsw.com, which has more ideas about things to do in NSW, as well as places to stay.
4. Plan a stop for everyone
"With some sensible advanced planning you'll be able to include a stop for each individual's taste. We planned some tech stops for me, sporty stops for the kids, yoga stops for Leah and let's be honest here, food factored in to about all our stops too! There is so much to do in regional Australia, with some advanced research you can create an adventure that ticks everyone's boxes."
5. Leave room for spontaneity
"Sure, planning your trip is important, like the major stops you want to make and things you want to see. But try and leave space in your itinerary for the unknown. Random stops can uncover real hidden gems you may have missed otherwise."
6. Remember those things called maps?
"You'll need one. On paper. Going regional often also means no mobile phone reception or a GPS going mad. So don't rely on tech to guide your way – keep a good old fashioned map in your car. And if you're really keen, plan your long drives in advance, writing down the names of key towns and turn offs for when you're in those "black zones". It could save you from a 5 hour off road experience – not that it happened to us. Or did it?"
7. Time together means time apart
"Or as my partner Leah and I call it 'mood alignment'. Sometimes your child just wants you to themselves or is too young to have time away from everyone else alone. Finding time to be alone, or apart can help to ease the stress of being 'together' for so long."
8. Talk to people
"Stop and chat to the locals you meet along the way. There wasn't a single person I spoke to that I didn't learn from, or that didn't inspire me in some way. Leah spoke to two new Aussies, originally from Sri Lanka now living in Parkes, who shared the most amazing story of their move to Australia. We spoke to a former city slicker turned farmer who was taught the ropes by his farming neighbours and in many respects, his competitors. At every turn, from every Australian, there's a story of resilience that's inspiring and instils a real sense of Aussie pride."
9. Music matters
"A road trip just isn't the same without tunes. But when you have a car full of young and full-blown adults you'll quickly discover that earphones are a must. You might also need to tailor any 'screen time' rules to ensure each child can get the benefit of their own playlist or audio books."
Stay COVID Safe on the road
Check nsw.gov.au/covid-19 regularly for what you can and can't do under the rules, health and wellbeing advice, case locations, symptoms and testing clinics. If you feel sick, delay your trip and get a COVID test.
Sign up to discover more
Subscribe to stay up-to-date with all things Australia Day.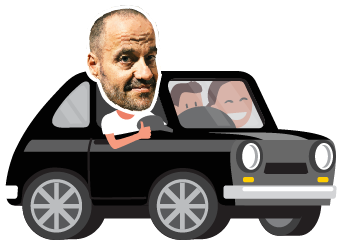 Note: Adam Spencer is an Australia Day Ambassador. While the NSW Government paid Adam to appear in the "Love an Aussie Road Trip" video series, Adam and family paid all their own expenses. Adam and family did not accept any gifts. The inclusion of tourism operators and businesses in the video series and on this website is not an endorsement.