Episode 1. Fasten your seatbelts
Join Adam Spencer as he brings the Aussie road trip to you, wherever you are.
Episode 2. A foodie's heaven – French style
In Mudgee, Adam meets a French rugby player turned winemaker and the kids miraculously turn into mini MasterChefs at dinner time.
Episode 3. Getting to the heart of a community, through sport
In Mudgee, Adam has a kick with our next generation of Socceroos and Matildas and realises he should stick to his day job and leave football for the talent of regional Australia.
Episode 4. Tour de Zoo
In Dubbo, Adam catches up with some friends from the Galapagos and learns about dating and mating in the wild.
Episode 5. Heroes of the Royal Flying Doctor Service
In Dubbo, Adam meets the heroes of emergency unit in the air and a former patient who owes his life to them.
Episode 6. Discovering the Dish
In Parkes, it's one giant leap for Adam's road trip as he meets the Aussie hero of the moon landing and a local artist whose work is featured on the $1 coin.
Episode 7. A city slicker goes bush
In Wellington, Adam is welcomed with open arms by a mate who's taken the family bush.
Episode 8. Riding the rapids
In Gloucester, Adam rides the rapids of an iconic Australian river, and happens upon the most awesome Aussie backyard complete with sheep and a goal post.
Episode 9. A pit stop to see our furry friends
In Port Macquarie, Adam meets his long-lost marsupial cousin and country legend John Williamson (well, kind of) and the kids take to the sand dunes for a bumpy ride.
Episode 10. Beach, surf and cricket
On the last leg of the journey, Adam and crew stop at South West Rocks, the perfect mix of nature and the best of beach cricket.
Love an Aussie Road Trip Live!
Adam shares his hilarious road trip with the nation, inspiring everyone, everywhere to discover regional Australia.
Discover more
Beautiful views, unforgettable experiences and memories to last a lifetime – there's so much to love about an Aussie road trip. Australia is filled with boundless ends to explore and has many stories to tell.
Make your next road trip legendary
Here are the ingredients to help you dream up your next adventure.
Stay COVID Safe on the road
Check nsw.gov.au/covid-19 regularly for what you can and can't do under the rules, health and wellbeing advice, case locations, symptoms and testing clinics. If you feel sick, delay your trip and get a COVID test.
The images immediately above are courtesy of Destination NSW.
The ultimate Aussie road trip tool kit
An Aussie road trip is the perfect way to explore our great country, get lost in the land, connect with interesting people, and learn more about Australia's rich culture. So, when it's the right time for you to travel again, here are some handy tips to get you on the road!
Have an epic road trip with your dog
Here's what you need to know to keep your furry friend safe and happy on your next road trip.
More info
Banish back seat boredom with 12 fun car games
Make the journey as fun as the destination. Sitting in the car won't be boring with 12 fun and easy car games.
More info
Plan a safe road trip
A little bit of planning before you hit the road will help make your road trip safe, fun and stress free. This includes staying COVID Safe.
More info
#loveanaussieroadtrip
Tag #australiaday26 and #loveanaussieroadtrip on Instagram to have your experience featured here!
Sign up to discover more
Subscribe to stay up-to-date with all things Australia Day.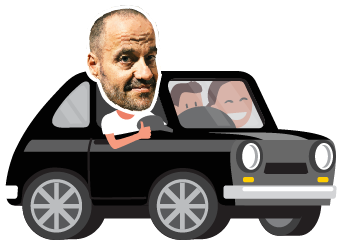 Note: Adam Spencer is an Australia Day Ambassador. While the NSW Government paid Adam to appear in the "Love an Aussie Road Trip" video series, Adam and family paid all their own expenses. Adam and family did not accept any gifts. The inclusion of tourism operators and businesses in the video series and on this website is not an endorsement.