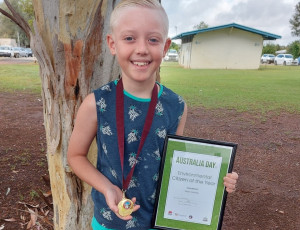 When eight-year-old Zaidyn Mcalister noticed his grandfather struggling to maintain the Balranald Cemetery, he decided to lend a hand.
Zaidyn started to clean and maintain the cemetery, showing respect to all the families with loved ones buried there, while also protecting the cemetery's flora and fauna.
Thanks to Zaidyn's efforts, a significant part of the town's history is being preserved and he has even received an Australia Day Environmental Award for his dedication. This exposure has led to others asking how they can contribute too. Through his hard work, Zaidyn aims to get more people respecting the environment.