Year 2, St Joseph's Catholic Primary School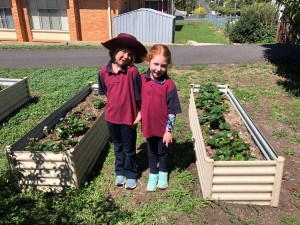 When it comes to growing lifelong skills, the students at St Joseph's Catholic School have it covered. The 'Yerrusha' garden which means legacy, is being cared for by Year 2 students and it's absolutely thriving.
Students have sourced seedlings from local businesses and have recently installed two water bottle refill stations soon. In the future they hope to expand the gardens by installing a watering system and greenhouse.
The garden is located within school grounds and students learn lifelong skills when planting, nurturing and harvesting the produce. The vegetables are also used in student's 'crunch and sip' breaks, helping them to appreciate the environment and the benefits of healthy eating.