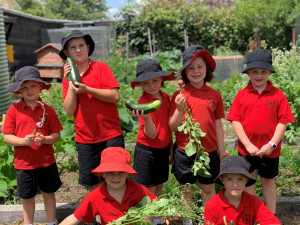 For eight years, the Oberon Public School Community Garden has been growing fruit and vegetables for the whole school to enjoy.
A number of community grants means the garden has a water tank, pressure pump, garden work benches, mulcher and garden tools. Manure is sourced through local farms to add fertilizer. Garden waste is also added after students' daily break, which further adds to the sustainability of the project.
Two resident chickens call the garden home. They were incubated, hatched and cared for as part of a classroom project. They also contribute to the fertilisation of the garden and provide eggs for the school canteen.
The garden gives students a hands-on experience, encouraging awareness of environmental sustainability and promoting the benefits of healthy eating.