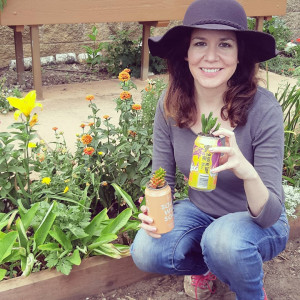 Sofia Carvajal has been the President of the Hurstville Community Garden Association (HCGA) for more than two years. Her passion for green spaces, sustainability and climate action have led her to play an impressive role in the garden community, as well as in the local Georges River area.
Under Sofia's leadership, the community garden isn't just growing food, it's also growing community spirit. The HCGA reached full membership capacity and is popular with many local groups, including Hurstville Adventist School, Lugarno Lions Club, Georges River College Hurstville Boys Campus, Northcott not-for-profit disability service, Neami National mental health organisation, Permaculture Sydney South, Canrevive cancer group and the 3Bridges youth program.
The Garden also caters for the increase of Chinese, Indian, Bangladeshi and Nepalese communities in Georges River who experience a lack of urban growing space to grow their culturally appropriate foods. The garden is one of the few who are bilingual and are accessible online and face-to-face with the implementation of interpreters and a bilingual online presence.
These groups all benefit from the space and from Sofia's tireless efforts, using it for sensory, cultural and social experiences, as well as exercise and food education. The result is a deeper connection to self, others and the environment.