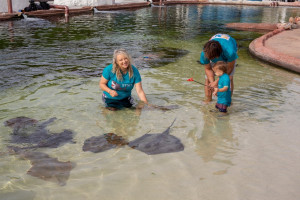 When it comes to rays, turtles, sharks and fish, Lia and Ryan Pereira are ready to dive right in.
In 2017 the duo co-founded Sea Shelter, a not-for-profit marine conservation organisation that's dedicated to the research and rehabilitation of local marine life around Port Stephens.
Sea Shelter runs entirely on volunteers who devote their time to marine clean-up activities and deliver education programs. They also conduct research into many Elasmobranch species including sharks, to ensure they're protected from extinction.
To bolster their conservation efforts, Lia and Ryan founded the Irukandji Shark and Ray Encounters organisation. It's an interactive aquarium that educates and provides unique marine experiences with funds going to support Sea Shelter.