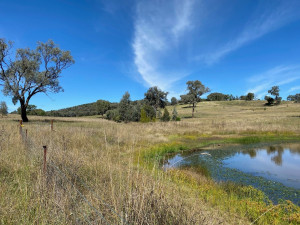 Retired wool broker, classer and self-confessed nature lover, Cameron Wild, lives on a small farm west of Molong.
Cameron has planted thousands of new trees, shrubs and ground cover on his property to provide an environment for native animals to thrive.
Cameron runs the farm using holistic principles and time-controlled grazing, focusing on low cost initiatives that allow the land to regenerate. He also fosters conservation efforts on his farm to protect biodiversity, prevent erosion and provide homes to native animals. He has set up a Seed Production Area to harvest seed from indigenous plants for Landcare projects.
In addition to his working on his farm, Cameron is also a passionate contributor to many projects in the local area including the Central Tablelands Landcare group, the Orange Beekeepers Group and the Molong Community Garden group.